Porcelain tiles are a fantastic choice for both walls and floors throughout the home. With a range of patterns, colours, and textures, porcelain tiles can really allow you to personalise your space. Imitating natural stone and timber, porcelain tiles provide a real alternative to the less durable and more complicated real versions. But the finished result is incredibly realistic, and you would be hard pushed to tell the difference. But what about installing these tiles? Is there anything to be aware of? Here at Tiles 2 Go, we are Preston's preferred tiling company. As a result, we have produced this guide to installing porcelain tiles.
Cutting porcelain tiles
When it comes to porcelain tiles, cutting them is slightly more complicated than it is for ceramic tiles. This is because porcelain is a lot more hard-wearing and durable than ceramic. As a result, when cutting intricately around sockets, obstacles and pipework, you may need to use a diamond cutter. This is because you need to get the line of the cut perfect, without cracking the tile.
Adhesive
Although porcelain comes in a huge variety of thicknesses and sizes, you should use a strong adhesive with any porcelain tile. This is because any slight movement can really impact on the final finish of your tiling project. Here at Tiles 2 Go, we would recommend a fast set and flexible adhesive for porcelain tiles.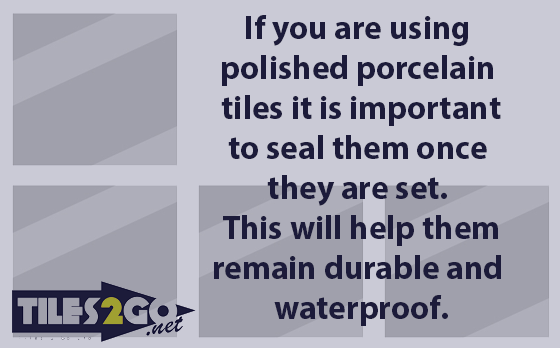 Sealant
While natural stone and wood will need sealing, the natural effect porcelain tiles do not require any additional steps.
However, polished porcelain tiles DO need to be sealed after installation.This will help them stay water resistant and durable for the course of their life. Simply apply some coats of a polished porcelain and stone sealer to protect your tiling.
If you need any support or advice, or if you are ready to begin your tile shopping, contact us today, here at Tiles 2 Go.